Hello, everyone!
Quiltstory is hosting a Block Party: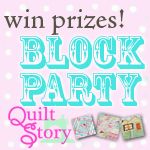 I've amazed myself, a bit, with designing a block! This one is inspired by one of the stained-glass windows at our church, which actually has
three
quilt-block-looking patterns together on one window. I present (and click for bigger):
Leaded Glass
Please do go check out everyone's blocks! Let's have a party!